30" Samsung 2.1 Cu. Ft. Bespoke Over-the-Range Microwave In Navy Steel - ME21A706BQN/AC
Precise Glass Touch Control
LED cooktop lighting
Simple Clean Filter
Stylish and convenient fingertip control
Glass Touch Control
The integrated Glass Touch Control panel is both convenient and stylish. It lets you intuitively and effortlessy adjust the settings and control with the touch of a finger.
See things clearly
LED lighting
Brilliant LED cooktop lighting makes it easy to see what you're cooking by evenly distributing light over the cooktop. The digital display's striking ice blue colour provides a stylish accent to enhance any kitchen interior.
Simple Clean Filter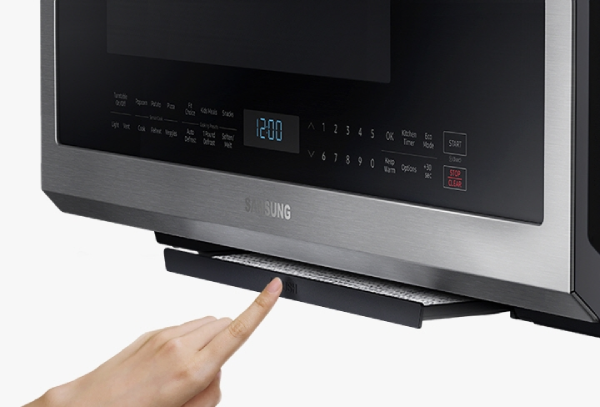 Step 1
When the filter needs cleaning, it can be taken out easily with one touch.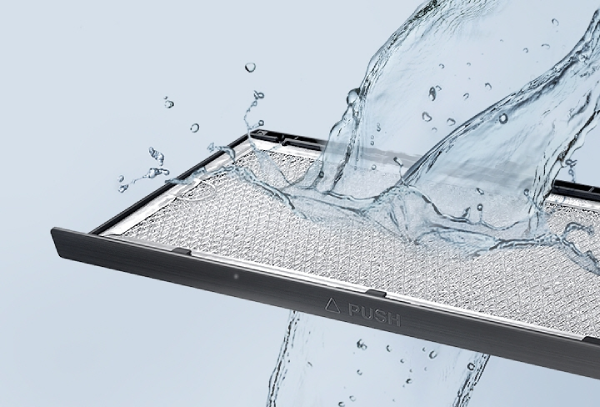 Step 2
The filter is reusable and can be easily washed with mild soap and water.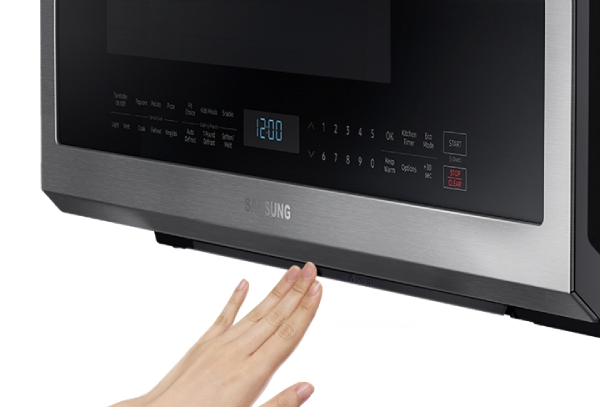 Step 3
After the filter has been cleaned, it can be re-inserted easily with one touch.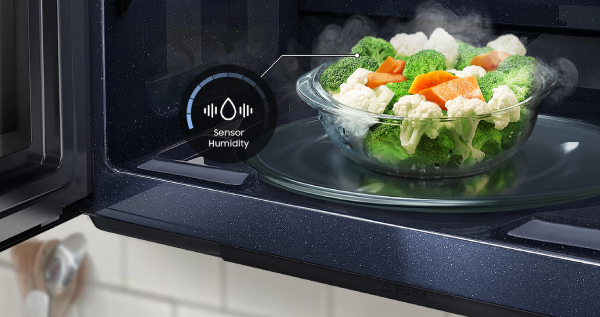 Automatically adjusts for optimal results
Sensor Cook
With the push of a button, Sensor Cook senses the interior air humidity so the cooking mode and time can be automatically adjusted to retain the natural texture and flavour of ingredients.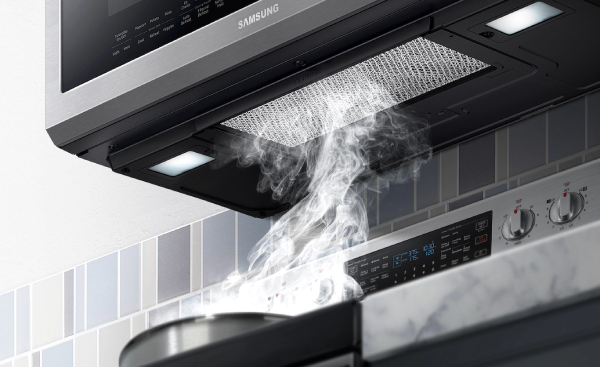 Powerful suction capacity
400CFM suction capacity
Ensure a more comfortable cooking environment with effective ventilation. The underside of the OTR features a Power Ventilation system that refreshes the air you breathe. Its 400 cu. ft. per minute suction capacity gets rid of steam, fumes and unpleasant odours quickly.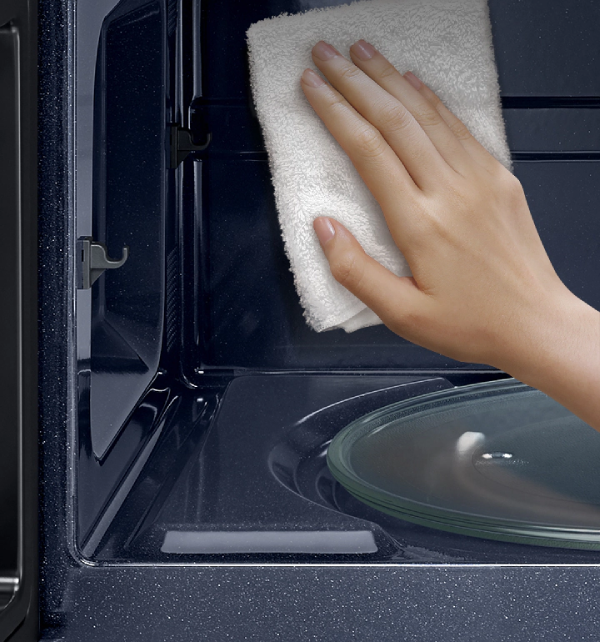 Easy to clean
Ceramic Enamel
Our ceramic enamel interior is scratch resistant and easy to clean. This durable ceramic enamel interior provides a polished surface that's easy to maintain. Effortlessly remove grease or oil from surfaces and protect against scratches that occur from daily use.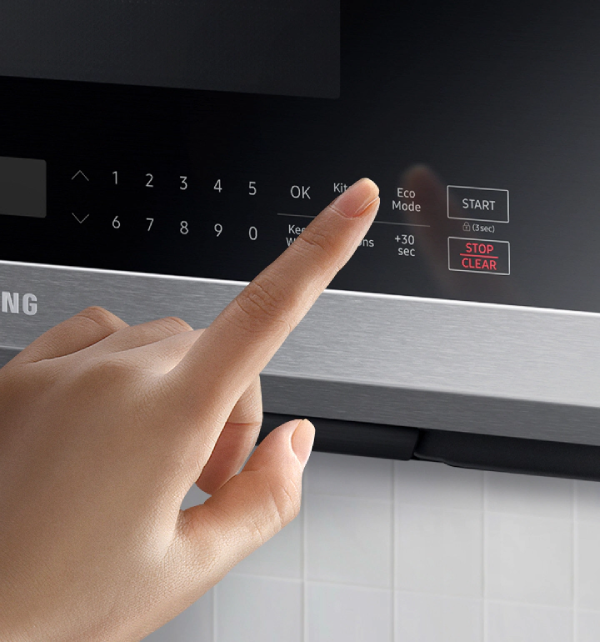 Save Energy
Eco Mode
Even at rest, conventional over-the-range microwaves use power to maintain essential functions. Our Eco Mode button conserves power by turning off the display when not in use and is more convenient than unplugging the microwave.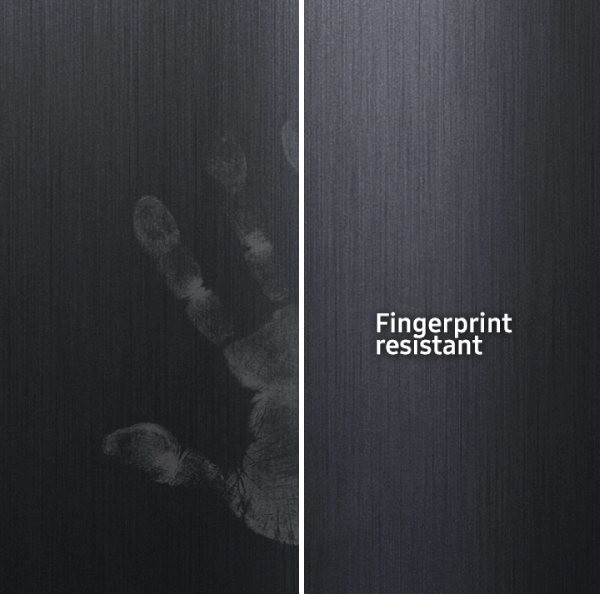 No unsightly marks
Fingerprint Resistant Stainlesss Steel
Keep your appliance looking neat and clean. A special Fingerprint Resistant Finish helps prevent surfaces from becoming covered in unsightly fingerprints and other marks and smudges.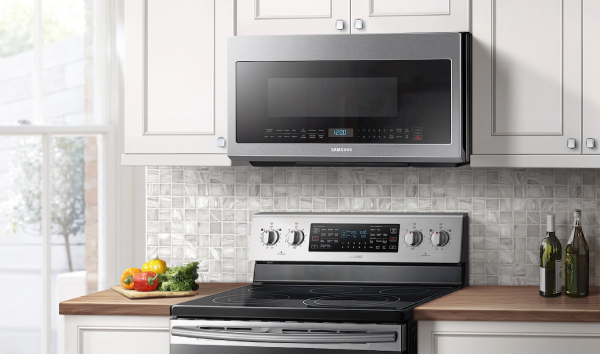 Simply stylish
Stylish and Modern Design
Create an elegant and modern looking kitchen, with a choice of Stainless Steel or Black Stainless Steel.
App Connectivity
SmartThings App Support
No
Weights/Dimensions
Loading Quantity (20/40ft)
125 / 327
Smart
WiFi Embedded
No
Weights/Dimensions
Weight (Shipping)
67.2 lb (30.5 kg)
Weight (Net)
60 lb (27.2 kg)
Outside (WxHxD)
29 7/8 x 17 1/16 x 16 1/2 inch(es)
Shipping (WxHxD)
33 11/32 x 20 25/32 x 19 3/8 inch(es)
Cavity (WxHxD)
22 1/8 x 10 13/16 x 14 27/32 inch(es)
Accessories
Others
Charcoal Filter
Square Wire Rack
Yes
Quick Guide Label
Yes
Features
Eco Mode
Yes
Keep Warm
Yes
Clock
Yes
Turntable On/Off
Yes
30 sec. Plus
Yes
Sound on/off
Yes
Child Safety Lock
Yes
Auto Cook
Yes
Kitchen Timer
Yes
Ventilation Power (CFM)
400
Defrost (Auto / Power / Sensor)
Auto
Sensor Cook
Yes
Materials/Finishes
Door Type
Resecced Handle (Rignt to Left)
Control Method
Glass Touch
Display Type
LED (Ice Blue)
Cavity Material
Ceramic Enamel
Color(Door)
Navy Steel
Type
Installation Type
OTR
Power/Ratings
Power Source
120V / 60Hz
Power Consumption (Microwave)
1500 W
Output Power (Max)
950 W
Power Level
10
Powered by Apex eCommerce Global Retail Operating Systems with Product Catalog