30'' Samsung Gas Range with 20 K BTU Dual Burner 5.8 cf NX58M6650WS

FREE DELIVERY IN THE GTA

PAY ON DELIVERY




30 DAY PRICE GUARANTEE

1 YEAR MANUFACTURES WARRANTY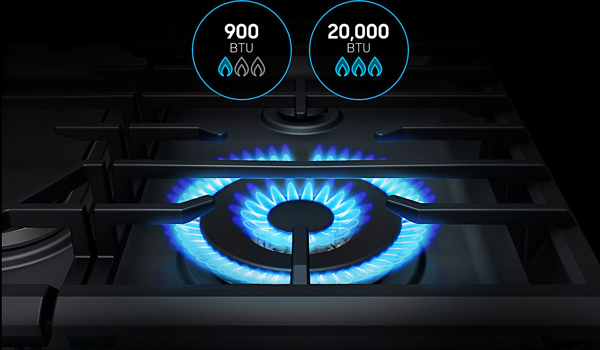 Powerful heat with precise control
20 K BTU Power Burner
A 20 K BTU Burner combines powerful heat with precise and constant temperature control. It ranges from 900 BTU to 20 K BTU, so you can quickly go from a high heat to a true simmer for intense and even cooking. Or turn the burner up all the way to boil water in a flash and cook food faster.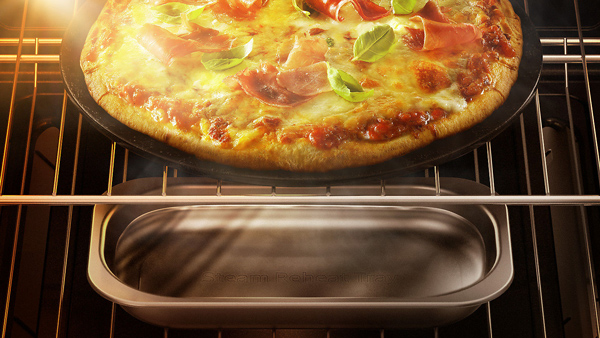 Succulent steam heated food at any time
Steam Reheat Tray
With the Steam Reheat function and Steam Reheat Tray you can easily prepare delicously succulent steam heated food. A vapor of high temperature steam surrounds your foods so it retains more of its natural moisture and tastes like it's newly-cooked without the dryness often caused by reheating.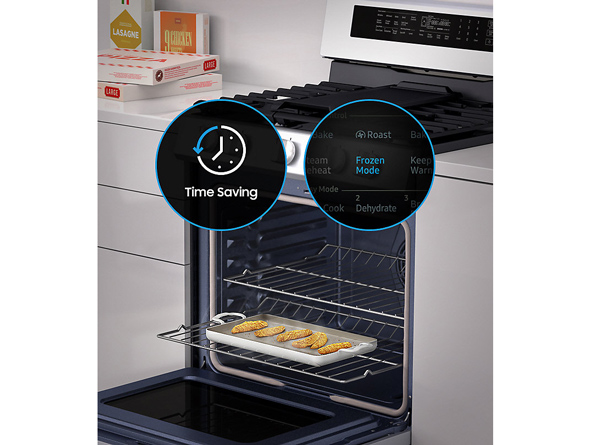 Cook frozen food faster and more evenly
Frozen Mode
The Frozen Mode saves you time as you can rapidly and easily cook frozen food, like pizza, lasagna and chicken nuggets. Everything is cooked much more evenly and quickly using the optimal oven setting. So you can enjoy perfectly cooked meals in less time than a traditional pre-heat cycle.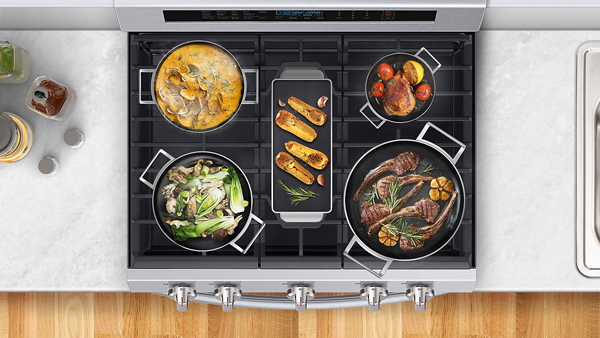 Wider cooking space for more usability
Wide Edge Grate
A Wide Edge Grate enables superior usability as it maximizes the cooking area without wasting unused space. You can use a variety of different sized cookware and prepare larger meals more easily and efficiently. It also creates a stylishly modern and harmonious appearance, but is very robust.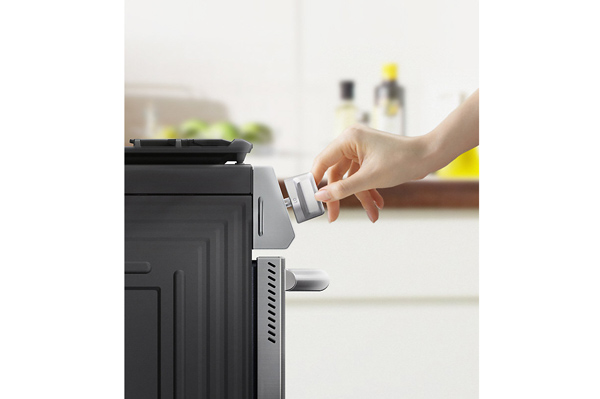 Ergonomic & conveniently angled controls
Slanted Control
The Slant Control ensures that the control knobs are ergonomically positioned for maximum convenience and to place less strain on your wrists. The angled design means you can hold and control the knobs with more precision and comfort, and enhances the oven's sleek and modern premium styling.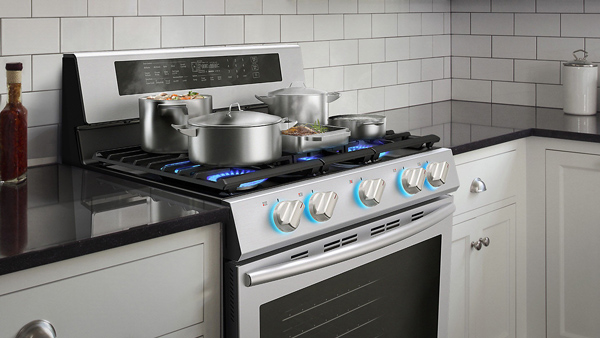 Safe, intuitive & precise burner control
Illuminated Lighting Knob
With the Illuminated Lighting Knob you get the peace of mind that you can easily check whether the cooktop is on or off at a glance, even from a distance. The large, ergonomic design of its metallic knobs also makes them easy to grip and adjust precisely. And they add a unique premium look.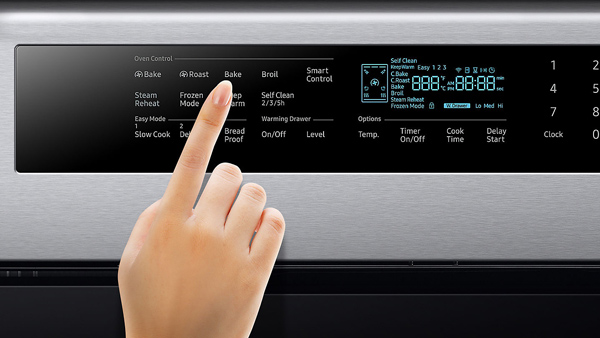 Simple to program & control your cooking
Wide Membrane
A Wide Membrane display lets you intuitively and effortlessly control whatever you're cooking with a gentle touch and without pushing buttons. Its wide display screen also features separately grouped buttons and various recipe modes that make it much easier to select the right program settings.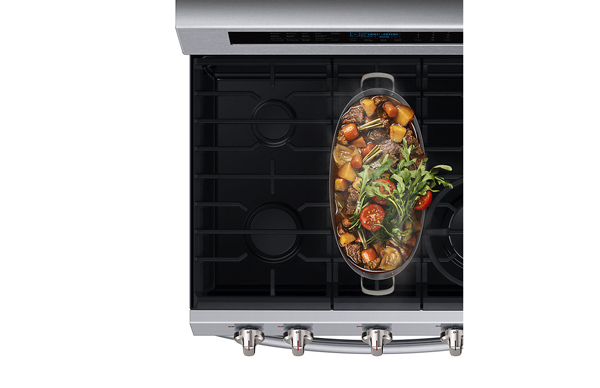 Even bigger burner for even bigger meals
Big Oval Burner
A Big Oval Burner at the center of the cooktop provides added flexibility as it is perfect for oval shaped cookware, oversized pots and saucepans or "bridge" cooking. So you can cook all types and sizes of meal quickly and evenly, and enjoy an easier way to steam food, like fish or vegetables.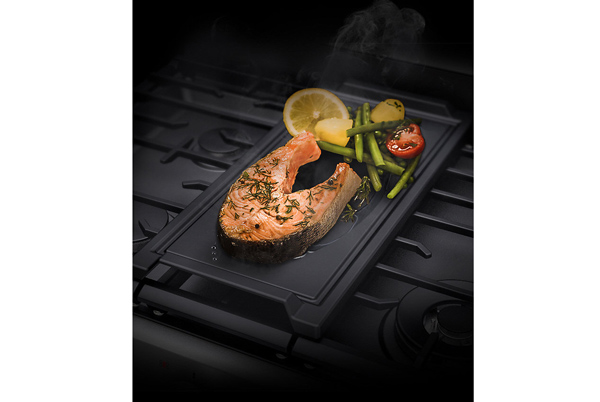 Quickly & evenly cook more healthy food
Aluminum Griddle
An Aluminum Griddle with a flat surface provides all the benefits of fast, healthy cooking, searing and sautéing without oil. It's lightweight and easy to carry and clean, but also hard wearing and an excellent conductor of heat, so you can cook multiple or much larger items quickly and evenly.
Cooks more & larger
Large Capacity
A massive 5.8 cu. ft. capacity oven lets you cook many more dishes. It can easily accommodate large items, like a big roast or a 30lb holiday turkey, and it also has three wire oven racks to fit in various meals.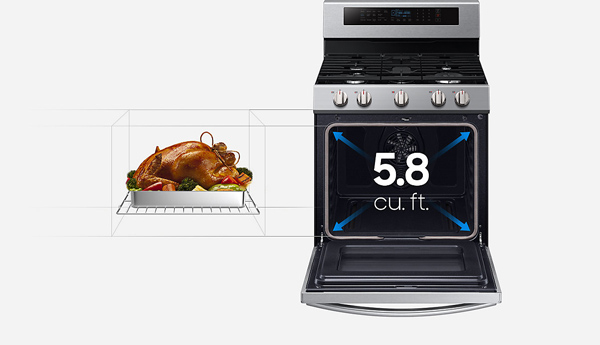 Large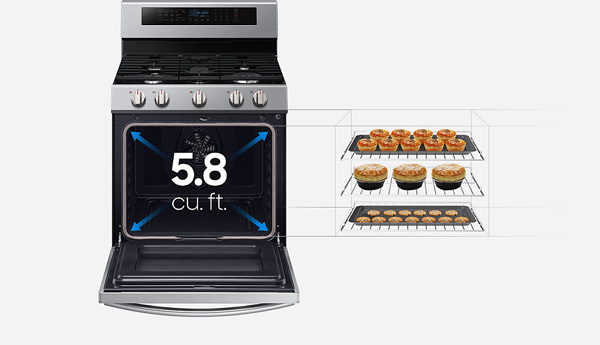 Multi
Type
Installation Type
Freestanding
Capacity
Oven Capacity
5.8
Drawer Capacity
0.7
Materials/Finishes
Oven Color
Stainless Steel
Control Type (Oven)
Membrane + Film Touch
Control Type (Cooktop)
Knob
Display Type
LED Display
Display Color
Ice Blue
Door Type
New Wide View
Inputs & Outputs
Self Clean
Yes
Steam Clean
No
Wi-Fi Connection
Yes
Easy Cook
Yes
Healthy Cook
No
Favorite Cook
No
Keep Warm
Yes
Clock
Yes
Numeric Pad
Yes
Kitchen Timer
Yes
Child Safety Lock
Yes
Hidden Bake Element
Yes
Interior Light (Position)
1 Incandescent 40 W (Back)
Auto Oven Light
Yes
Light (Lamp) On/Off
Yes
Sound on/off
Yes
Setting (Clock System Option (12H/24H))
Yes
Delay Start
Yes
Sabbath Mode
Yes
COOKTOP
Type
Gas
Cooktop Frame
Black Porcelain Enamel
Number of Burner
5 EA
Total Power
59.5 K
Burner 1
20 K, Dual
Burner 2
15 K
Burner 3
5 K
Burner 4
9.5 K
Burner 5
10 K, Big Oval
Burner Cap
Yes
Center Oval
Yes
Sealed Burner
Yes
Grate
Yes
General Feature
Convection
True convection
Bake (Single)
175 °F ~ 550 °F
Variable Broil (Low-High) (Single)
Hi 480 °F / Low 375 °F
Convection Bake (Single)
175 °F ~ 550 °F, True
Convection Roast (Single)
175 °F ~ 550 °F, True
Power/Ratings
Bake Element
18 K BTU
Broil Element
13.5 K BTU
Convection Heater Element
800 W
DRAWER
Type
Warming Drawer
Weights/Dimensions
Net (WxHxD)
759 / 1, 183 / 660 mm
Gross (WxHxD)
839 / 1, 285 / 769 mm
Weight (Net)
99
Weight (Gross)
112 kg
Loading Quantity (20/40ft)
20 / 84
Accessories
Number of Rack Positions
7
Number of Oven Racks
3
Wire Rack
2
Half Rack
1
Griddle
Yes
Anti-Tip Device
Yes
Additional Accessories
Steam Reheat Tray, Wok Grate
Powered by Apex eCommerce Global Retail Operating Systems with Product Catalog