24" Samsung Digital Touch Control 55 dBA Dishwasher in Stainless Steel - DW80R2031US
Hybrid Tub
Hidden Touch Control
Smart Leakage Sensor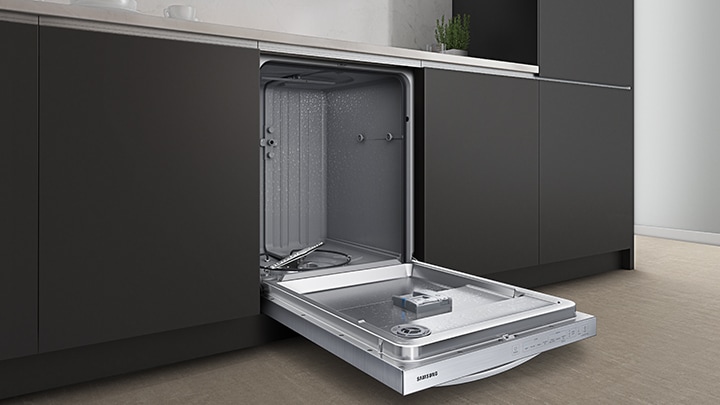 More durable & longer lasting
Hybrid Tub
A Hybrid Tub, with a stainless steel inner door is more durable and stays cleaner than competing models that are all plastic. It lasts longer and is resistant to discoloration.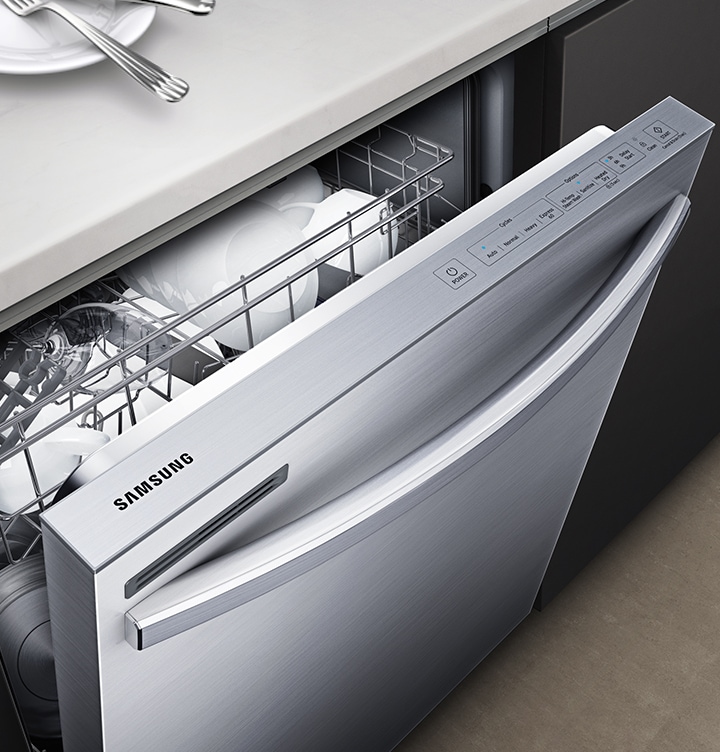 Simple fingertip control
Hidden Touch Control
A fully integrated Touch Control panel with soft touch control technology lets you easily select functions with a gentle touch. Located on top of the door, it creates a modern kitchen style without visible controls.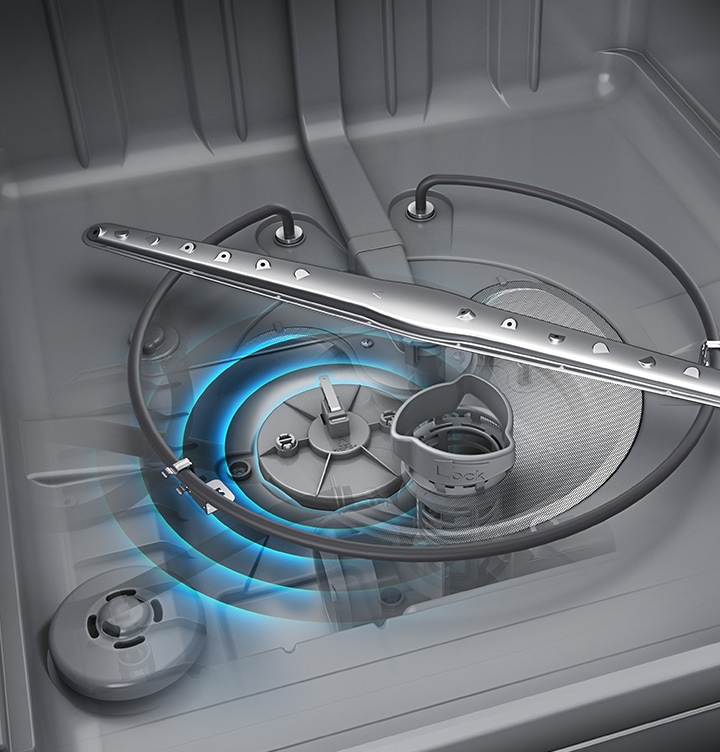 Rapid water leak detection
Smart Leakage Sensor
A Smart Leakage Sensor located below the dishwasher detects small water leaks and immediately stops the cycle, drains the water and shows an error message. So it protects you from any potentially expensive damage.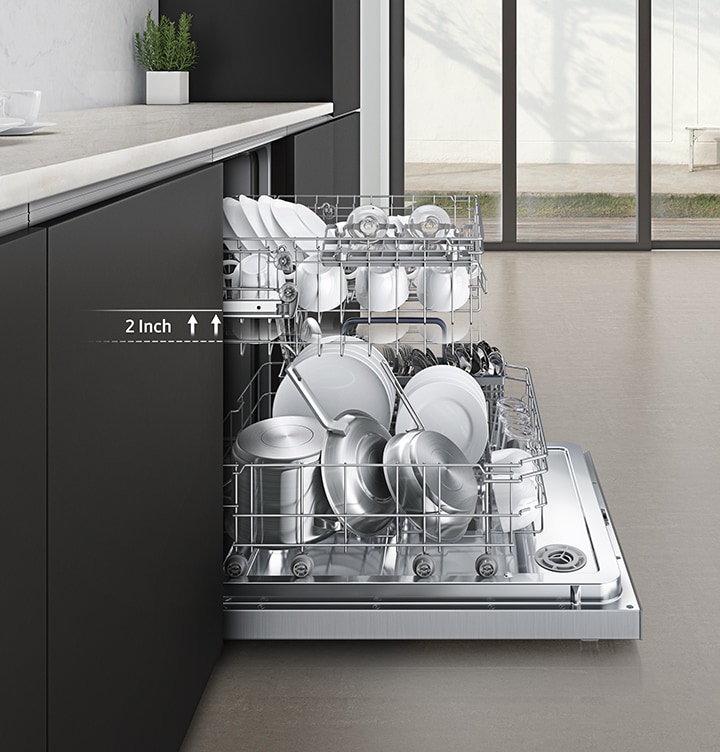 Fits taller and wider dishes
Height Adjustment
A Height Adjustment feature allows the upper rack to be raised up or down by an extra 2 inches. It can fit almost all dishes, so cleaning tall and oversized pots and plates is easy.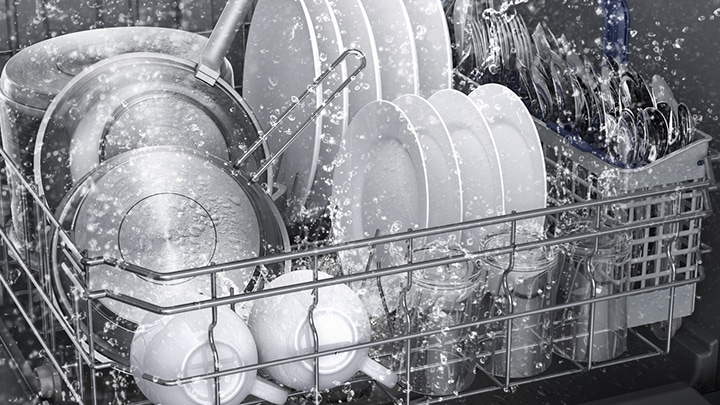 Optimal cycle detection
Auto Cycle
The Auto Cycle feature ensures that your dishes are cleaned efficiently. It detects how dirty they are and then automatically selects the optimal cycle, so they come out sparkling clean, using less water and energy.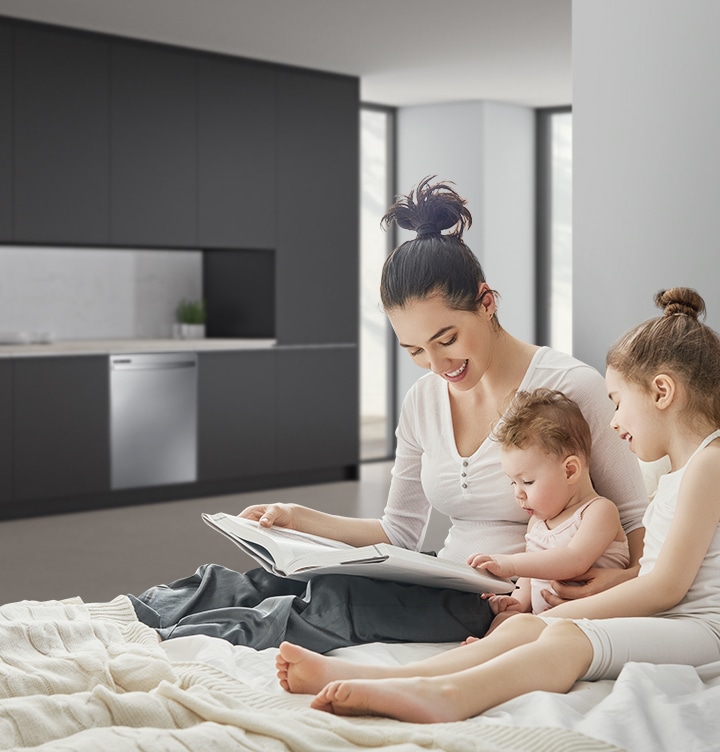 As quiet as a conversation
Quiet Operation
Creates much less noise as its Hybrid Tub, with a stainless steel inner door, absorbs much of the sound and vibration. At 55 decibels the noise it creates is less than a normal conversation, so it wont disturb you.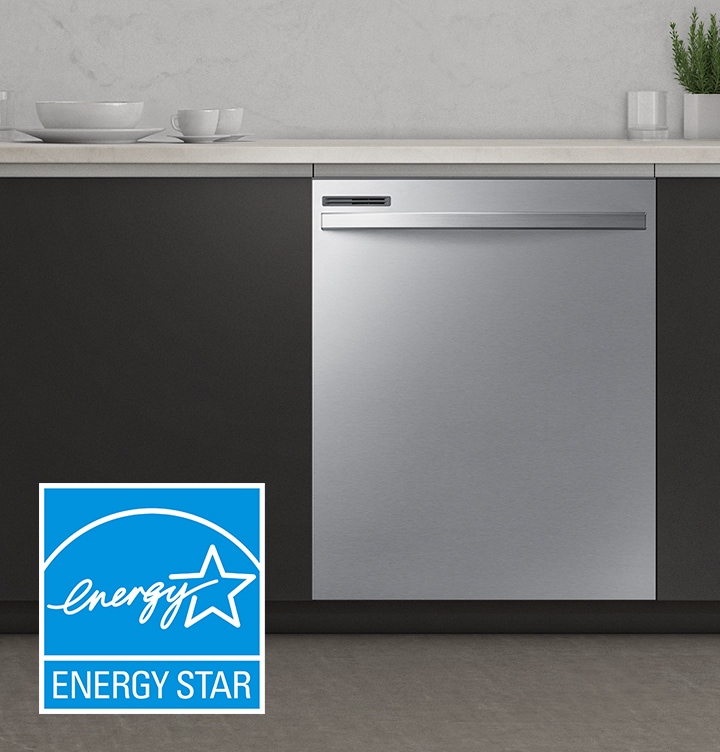 Exceptional energy efficiency
ENERGY STAR
ENERGY STAR certified, so you save money using less energy and water with each cycle without sacrificing performance.
Options
Half load
N/A
Delay Start
Yes
Storm Wash™
No
Number of Option
4
Programs
AquaBlast™
No
Chef
No
Self Clean
No
Express 60'
Yes
Heavy
Yes
Rinse Only
N/A
Quick
N/A
Express
N/A
Delicate
N/A
Auto
Yes
Intensive
N/A
Daily
N/A
Normal
Yes
Number of programs
4
Performance
Cycle time (min)
109-145 min
Noise level (dBA)
55 dBA
Water Consumption Per Cycle (gallons)
3.5 gallons
Dry System
Vent
Energy Annual consumption
255 kWh/year
Energy Star Certification
Yes
Capacity (Place Setting)
14 P/S
Design
Washing Type
Rotary
Display Light Color
Ice blue
Color/Material
STS
Control Type
Hidden touch
Size
24"T
Install Type
Built under
Cutlery Basket
Cutlery Tray
No
Lower Rack
Max Dish loading
12.75"
Adjustable Tines
No
Removable Tines
No
Fold down tines
No
Basket handle
No
UPPER RACK
Cup support clip
N/A
Adjustable Height
Yes
Adjustable Tines
No
Fold down tines
N/A
Foldable cup shelves
Yes
Knife rack
N/A
Options
Dry plus
N/A
Speed Booster
N/A
Zone Booster
N/A
Auto Door Open
N/A
UPPER RACK
Basket handle
No
Options
Control Lock
N/A
Rinse plus
N/A
Multi-in 1
N/A
Child Lock
Yes
Hi-Temp Wash
Yes
Sanitize
Yes
Heated Dry
N/A
Flex Half Load
N/A
Cutlery Basket
Cutlery Basket
Yes
General Feature
Aqua stop
N/A
Tub Material
Plastic
Heater Position
Exposed
NSF Certified for Sanitization
Yes
Leakage Sensor
Yes
Number of Wash Arm
Upper/Mid/Low
Food Disposer
No
Water Filtration System (Soft Water)
N/A
Cancel&Drain Button
Yes
Dimension
Net Width (inch)
23.75"
Net Height(inch)
33.75"
Net Depth(inch)
24.63"
Net Weight
29 kg
Gross Weight
35.5 kg
Power/Ratings
Electrical(Volts/Hertz/Amps)
120/60/15
Heater Watts
840
Circulation Motor
50
Smart
WiFi Embedded
No
Powered by Apex eCommerce Global Retail Operating Systems with Product Catalog