27" Samsung 7.5 Cu. Ft. Dryer With Super Speed and Smart Dial - DVE46BG6500EAC
Dry a full load in 30 minutes with SuperSpeed Dry.
Samsung's easy to use, AI Smart Dial simplifies your washer's control panel and makes laundry day a breeze.
Removes 95% of pollen from fabric,relaxes light wrinkles, and refreshes clothing.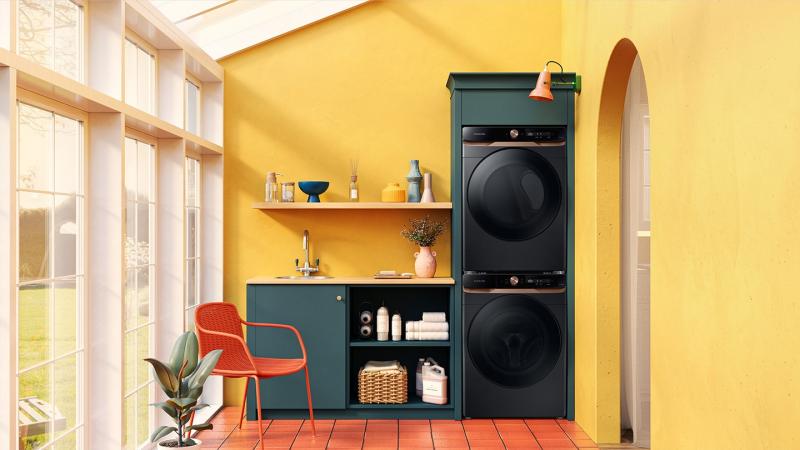 Dry more quickly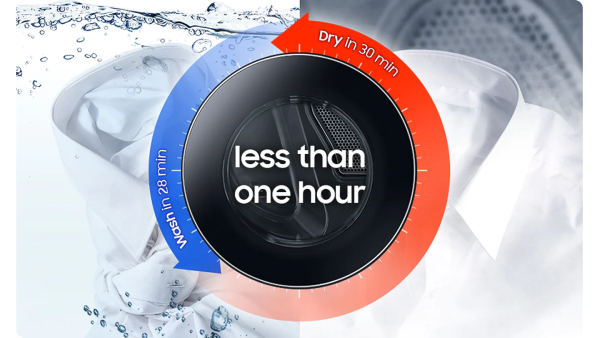 Dry in 30 minutes
Super Speed
Get clothes clean and ready to wear in just 1 hour. The Super Speed course can dry a load of synthetics in 30 minutes* and continually optimizes the temperature. And with a Super Speed washing machine you can wash clothes in 28 minutes**. So garments can be washed and thoroughly dried in 1 hour.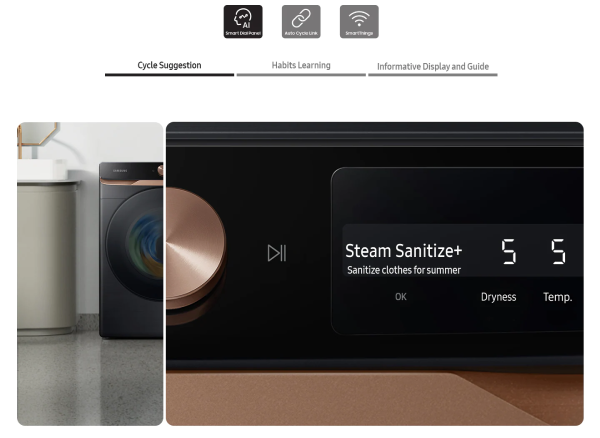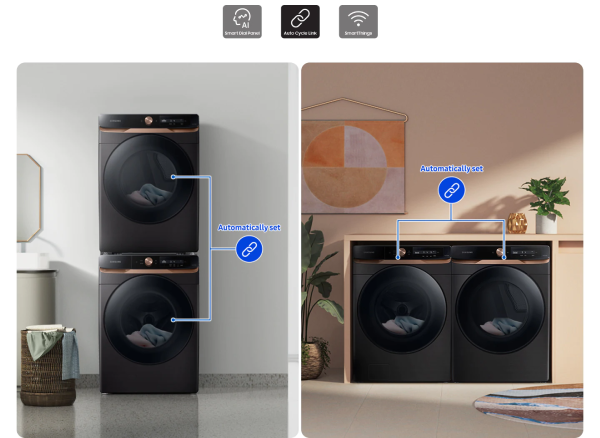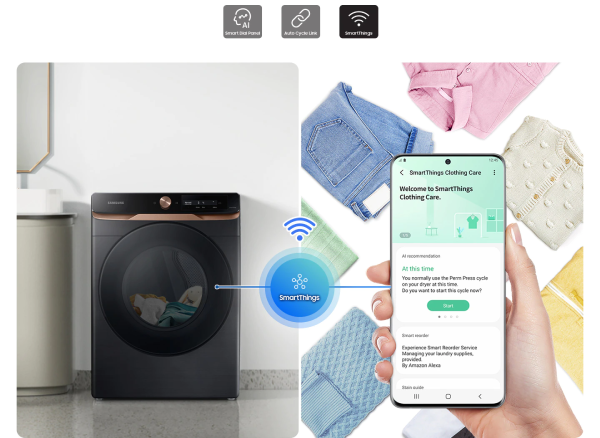 Itelligent Drying
Smart Dial
Dry laundry easily and effectively with Smart Dial.It personalizes drying by suggesting cycles to suit your habits and periodic or seasonal needs and displays timely information.It gives advice on cycles,planning and troubleshooting on an App.And it selects a drying course for a wash.
One control for two*
MultiControl™
Control two machines using just one simple control to suit your needs*. When a clothes dryer is stacked up on the washer its MultiControl can be flexibly changed to control either. So you don't need to stretch or use a remote control. Simply select the washer or dryer to enjoy easier laundry!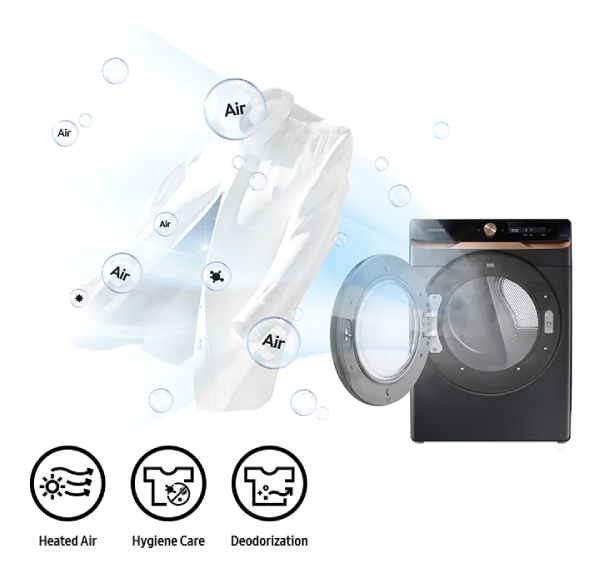 Hygienic laundry care
Steam Sanitize+
Make sure that clothes and other items, like linen and soft toys, are always hygienic. The Steam Sanitize+ cycle infuses high temperature heat deep into the fabric of wet items* and injects steam during the drying cycle. It provides Hygiene care for your laundry and removes 95% of pollen**.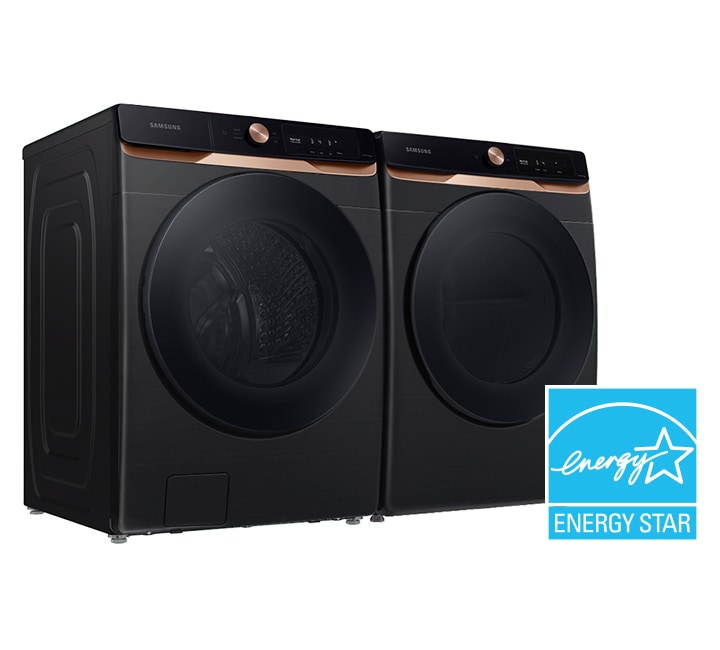 Certified efficiency
ENERGY STAR® Certified
Spend less on drying clothes and help to protect the planet. The clothes dryer is ENERGY STAR® certified. So you can save money by using less energy without sacrificing performance or functionality. This reduces the impact on the environment caused by the consumption of natural resources.
Fit in flexibly
Flexible Installation
Make the best use of the space in your home. Your washing machine and clothes dryer can be stacked vertically or placed side by side horizontally to suit the layout of your home and your lifestyle or to free-up floor space. The dryer is designed to be stackable* and will stay securely in place.
Drying made personal
SmartThings Home Life
Enjoy personalized, efficient and hassle-free drying using the SmartThings App*. Clothing Care gives personalized tips on laundry and users can also track and replenish supplied through Smart Reorder. Energy helps manage your energy use holistically. Home Care keeps the dryer in the optimal condition.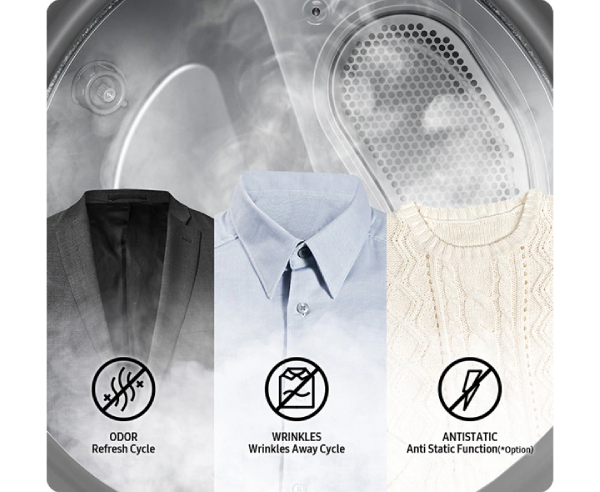 Less odor & wrinkles
Multi Steam
Refresh and smooth out clothes quickly without doing a full wash or dry cleaning items. The Multi Steam function infuses your laundry with steam to freshen garments and keep them smelling great. It reduces odors and static, and also smooths out wrinkles in clothes*, so they need less ironing.
Properly dry clothes
Sensor Dry
Make sure your clothes are properly dried without having to constantly check them. Sensor Dry automatically optimizes the drying cycle time and temperature. So clothes are always evenly dry. Moisture sensors prevent heat damage to the laundry and excessive energy use.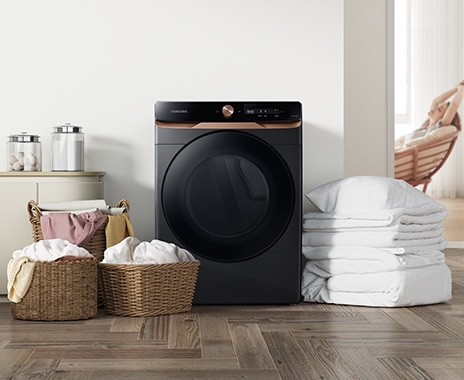 Large Capacity (7.5 cu. ft.)
Dry many more laundry items at once – saving time and effort. It has a large capacity of 7.5 cubic feet, so you can fit lots of clothes into a single load, including big items like a king-sized comforter. It means you need to dry fewer loads and can enjoy more time for yourself.
Vent Sensor
Get notified if you need to clear a blocked vent, so you can maintain the optimum drying performance. A Vent Sensor continually monitors the condition of the air duct and detects any buildup of lint.It automatically notifies you when it needs a clean or prompts you to check for obstructions.
Lint Filter Alert
Stop worrying that lint and fluff will block the dryer's air intake and hinder its performance.When you turn on the dryer,the LCD display shows the Lint Filter Alert to remind you to check if it needs cleaning.So you can remove any lint in the air duct and enjoy consistent performance.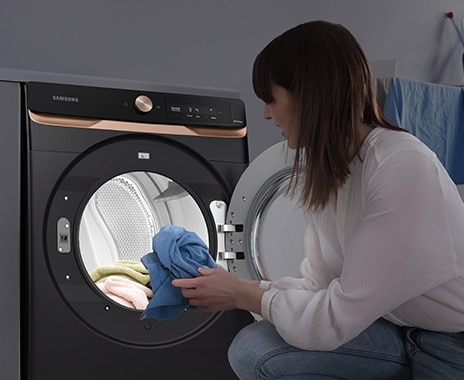 Drum Light
Empty your dryer much more easily – and never misplace another sock! The internal Drum Light brightly illuminates your laundry and the rest of the drum. So you can quickly check the contents and make sure that you get everything out. Now you won't overlook even the smallest item in the dark.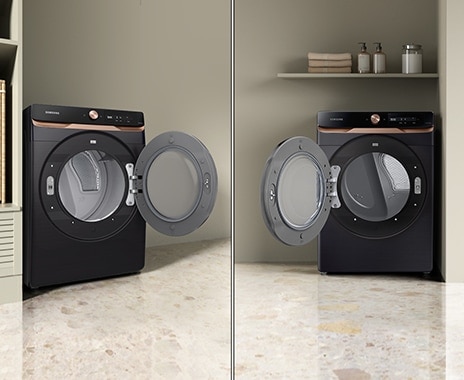 Reversible Door
Choose the direction the door opens to suit your laundry room layout and ensure maximum convenience. You can change which side the reversible door opens, so it fits the location, what is around it and how you do things. And walls won't get in the way, so you can install a dryer almost anywhere!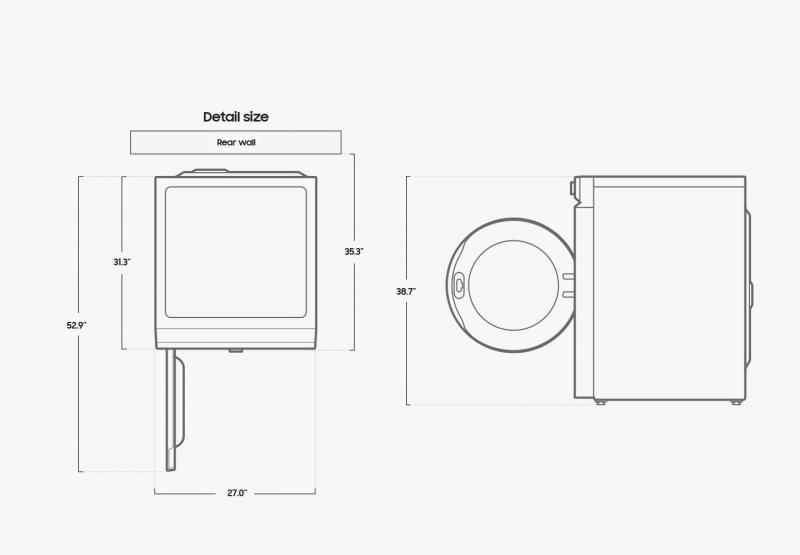 How to measure
Cycle
Cycle List
Refresh, Wrinkle Away, Steam Sanitize+, Super Speed, eco Normal, Normal, Heavy Duty, Towels, Perm Press, Activewear, Bedding, Delicates, Wool, Shirts, Denim(Jeans), Time Dry, Air Fluff, Small Load, Rack Dry
Number of Option
14
Number of Cycle
19
Feature
Number of Time Level
5 EA
Number of Temp. Level
5 EA
Number of Drying Level
5 EA
Wrinkle Prevent
Yes
Vent Sensor
Yes
Vent Exhaust (Electric/Gas)
4 ways
Steam
Yes
Progress Indicator
Yes
Mixed Load Bell / Damp Alert
Yes
Filter Check Indicator
Yes
Dual Heater
Yes
Drying Rack
No
Child Lock
Yes
Reversible Door
Yes
Smart Care
No
Smart Control
Yes
Interior Drum Light
Yes
Performance
DOE Energy Factor
3.93 lb/kWh
Energy Star Certification
Yes
Cycle time (min)
75
Design
Panel Display
Mono LCD + LED
Body colour
Ivory
Drying Capacity
Drying Capacity (cu.ft)
7.5
Cycle
Option List
Damp Alert, Wrinkle Prevent, AntiStatic, My Cycle, Smart Contol, Eco Dry, Drum Light, Child Lock, Alarm, AI Pattern, WiFi, Language, Vent Blockage Test, Factory Reset
Physical specifications & size
Net Dimension (WxHxD)
27.0 x 38.7 x 31.3 inch
Net Weight
119 lb
Gross Dimension (WxHxD)
29.4 x 42.5 x 33.5 inch
Gross Weight
126 lb
Voltage/Frequency
120 V / 240 V / 60 Hz
Drum Material
Powder Coat (Gray)
Powered by Apex eCommerce Global Retail Operating Systems with Product Catalog